Find Peru Library Teens on Facebook
Anime/Manga Appreciation Club – For Ages 12-18
Friday – September 13 – 3:30-4:45 p.m.
Join other Otaku's in the library's meeting room to discuss, draw and share all things anime/manga related!
Teens Talk Books – For Ages 12-18
Thursday – September 19 – 3:30-4:45 p.m.
TEEN ADVISORY GROUP – For Ages 12-18
Friday – September 27 – 3:30-4:45 p.m.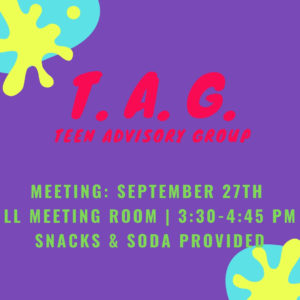 Teen Game Night – For Ages 12-18
Friday – October 4 – 6:30-8:30 p.m.
Come play your favorite video games on one of the 4 screens we have set up and hang out with friends! This month's Teen Game Night is sponsored by Marie Ortiz & Patty Williamson!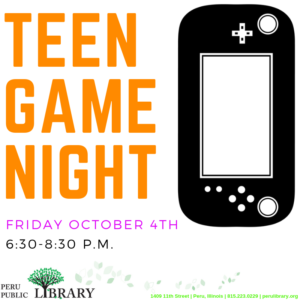 Writer's Club – For Ages 12-18
Tuesday – October 8 – 3:30-5 p.m.
Special event! For Teen Read Week we'll have IVCC English Professor Tracy Lee here to talk all things writing, give advice for starting your story and keeping it going strong!
Spend the afternoon with fellow writers! Bounce ideas off each other, share writing projects or getting a writing prompt from Emily that might just kick off your newest project!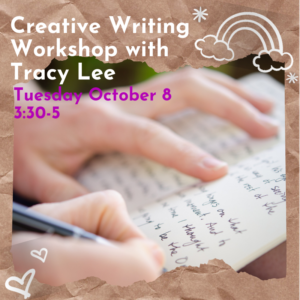 Teen Read Week – October 6th-12th
Teen Read Week runs from October 6th to October 12th and celebrates all the things you Teens LOVE to read! Here are all the fun events we've planned for that week so YOU can celebrate your love of reading!
Monday

>

October

7

>

Story Telling Workshop
Tuesday

>

October

8

>

Creative Writing Workshop
Wednesday

>

October

9

>

Get Your Craft On
Thursday

>

October

10

>

Intergenerational Book Club
Friday

>

October

11

>

Safe Journeys Visit and Activity
Writing Club – Tuesday – September 10 – 3:30 to 4:45