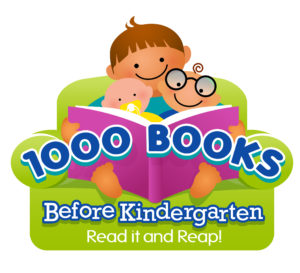 Reading to your child is the single most important activity that prepares your child to become a reader.
For children not yet in Kindergarten, 1000 Books Before Kindergarten® promotes the importance of reading to children from birth. Families joining this club pledge to read 1000 books to their child before the first day of kindergarten.  The library hosts a celebration each August for families completing the program.
Getting started is easy.  Simply download the registration form here and bring it to the library at your convenience.
Can't wait to get started. Download the first reading log here.  You and child color a circle each time you read or reread a book. When complete, stop by the Peru Library for the next log.
Our books clubs connect kids to books through discussion and extended activities.  Click here to learn more about our summer reading book clubs. Have a group of kids wanting to form a book club? Youth services is happy to help. Call us at 815-223-0229 ext. 5 for more information.
Reading to a certified therapy dog is a great way for a child to practice reading. Click here for dates and times of our summer reading sessions.
Nail Art Club Follow along with the design of the week to learn the basics of creating cool nail art. The next nail art session is during Summer 2018. Click here for more information.
Creative Cards for kids 3rd grade and up, introduces the basics of creating cool cards. Although the class is on a spring hiatus, call Youth Services to place your name on the list for the next session. The librarians will call you when the next session is scheduled.