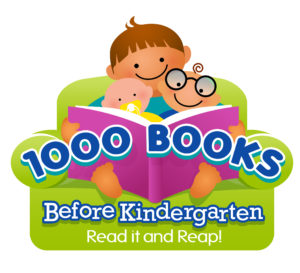 Reading to your child is the single most important activity that prepares your child to become a reader.
For children not yet in Kindergarten, 1000 Books Before Kindergarten® promotes the importance of reading to children from birth. Families joining this club pledge to read 1000 books to their child before the first day of kindergarten.
Getting started is easy. Simply visit the library to obtain complete a registration.
Keeping track is simple. Obtain a tracking sheet at the library. You and child color a circle each time you read or reread a book. When complete, stop by the Peru Library for the next log. Have fun taking your child's picture at the photo station.
Doggie Tales Club
Reading to a certified therapy dog is a great way for a child to practice reading. Click here for dates and times of our summer reading sessions.