Local History Research at La Salle – Peru Township High School
The La Salle – Peru Township High School offers a Local History course teaching students how to research their local history. Along with research skills for libraries, archives, and individuals, the students learn how to transform their research into papers and/or visual documentaries. The research projects from the Local History class taught by Holly Ziegler provide insight into the history of the Illinois Valley.
The documentary projects were produced in early 2019
Produced in 2018
Star Union Brewery
The Peru Library has a significant collection of Star Union Brewery memorabilia, donated by John Shimkus, Granville, in 2022. The collection contains bottles (empty and full), ice picks, beer glasses, coasters, bottle caps, and a mobile beer cooler among other items. The Star Union Brewery was the oldest brewery in Illinois, beginning brewing beer in 1845 and officially closing in 1966. The collection is frequently on display, but arrangements can be made to view the pieces. Also of interest is Toby Gualandri's research paper, The Oldest Brewery in Illinois Star Union 1845-1966, and A Bright Star for 100 Years . Here are photographs of a few items.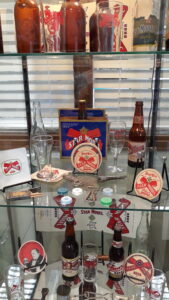 Illinois State History Day
Also, student-produced is Born, Built, Grown: the Triumphant Sucess and the Human Tragedy about the Illinois & Michigan Canal. Created and produced by Chase Heyen, from Lincoln Magnet School in Springfield, Illinois for the Illinois State History Day held in Springfield on Thursday, May 2, 2019, this documentary was one of two winners for the I & M Canal Projects.
Baseball in Peru
In May 1944, the All-American Girls Professional Ball League held their spring training in Peru. From May 16 through the 25th they practiced at Washington Park. Articles and pictures about the League's time in Peru are in the LaSalle Post-Tribune newspaper which the library has on microfilm.